Post-Seed Round- Funding Raise Documents & Information
This page is for ACCREDITED INVESTOR EYES ONLY - Please leave if you are not an accredited Investor.
This page is not an offer to sell securities. Any offer to sell securities will be made by a Term Sheet and only following registration by Click IT Franchise in any state requiring registration prior to any financial transaction. Read Special Legal Notice below.
Brief Summary
We are a franchise called Click IT, the IT department for Main-Street America. Click IT stores give concierge-styled, managed IT-as-a-service, addressing the underserved markets of small businesses & local residents. With 12 IT categories of over 100 items, Click IT's formula for selling & opening new stores is now proven with 4 stores opened in 2021 and projected ARR of $120,000. Using a proven franchise growth strategy, Click IT is uniquely positioned and is a ripe opportunity for disruption. We are raising $750,000 in a post-seed offering.
For all our Current Locations, visit https://clickitstores.com.
Click IT Franchise Booklet for Franchise Candidates: https://indd.adobe.com/view/7054fbc2-da1a-4b38-be1c-23b0ce447fdd
(See a recent video made by our Click IT Marietta franchisee: https://youtu.be/i1vRlYdpT5I.)
Members' Portal: https://members.clickitfranchise.com. Registration is required for complete access.*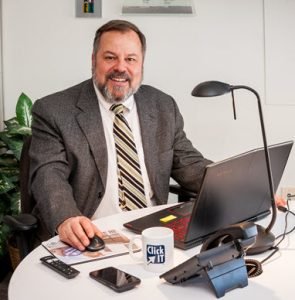 Contact Information
Contact Al Harlow, Founder, for more information.
Funding Round
We are raising $750,000 in a post-seed funding round. Funds will finance the growth of the Click IT Franchise network, preparing it for a Series A round where Click IT will ultimately become a nationally recognized brand.
Our Ideal Investment Partner
Our ideal investment partner is a VC firm that becomes the lead investor, with their investment of $250,000, and then takes us through a second A-series round after we've reached the size of 10 franchisees. We are currently at four.
Architype
Caregiver - The archetype that best reflects our message is the Caregiver. Our Caregiver's brand is built on trust and reliability. Click IT is here for you, your business, and your family when you need us most.
Mission Statement
To be the most respected, trustworthy, and reliable enterprise in the world providing best-in-class computer services, products, and solutions in a secure and private manner to both small businesses and residents in neighborhoods across the USA.
Local Computer Services Business Becomes a Nationwide Franchise Offering Called Click IT
Al On The Franchise Hot Seat - Sponsored by The Titus Center of the Palm Beach Atlantic University
Important Note Regarding Access:
To access the content when clicking on the 1drv (OneDrive) links, according to Microsoft, one doesn't have to have a Microsoft 365, OneDrive or SharePoint subscription.  The system however may ask for a one-time passcode to your email address to verify your identity. Once you receive the code by email, enter it into the verification screen to open the file. Learn more.
Again, there is no need for you to sign up for Microsoft 365, OneDrive, or SharePoint account.
Specific Legal Notices:
A Note About Confidential Information Shared:
You will notice that this page did not require a password to access. Nevertheless, all information regarding Click IT by Motherboard, Inc. including our future plans must be held in strict confidence.  Please do not share it with anyone outside your organization. If you've been invited to view this page, being given access to our links, we believe you are considering an investment in our enterprise and nothing else. We are in a very competitive industry so we are very careful in selecting what we share and who we share it with. You obviously meet our criteria.
Remember, all investments are risky. Everyone is encouraged to consult with their financial advisor before making any investment. With the passing of Title III of the JOBS Act, the rules and regulations regarding equity crowdfunding are undergoing a momentous shift allowing entrepreneurs to be more creative in getting financing. However, certain rules must be abided by, which we wholeheartedly endorse.
If you are an accredited investor as defined by Investopedia, no proof of income is required when making most investments. However, as a business needing to protect the owners and current shareholders, we still may still ask for proof at one time or another, along with other documents before providing more information than what's available from this web page.
Warrants Not Registered. Motherboard, Inc. securities issued or issuable, directly or indirectly, upon conversion of the Shares, if any (the Securities), have not been, and will not be, registered under the Securities Act of 1933, as amended (the Securities Act) by reason of a specific exemption from the registration provisions of the Securities Act, the availability of which depends upon, among other things, the bonafide nature of the investment intent and the accuracy of the Holders representations as expressed herein or otherwise made pursuant hereto. Warrants acquired are for investment and not with a view to the sale or distribution of any part thereof, and the Holder has no present intention of selling or engaging in any public distribution of the same except pursuant to a registration or exemption. Holders must be accredited investors within the meaning of Regulation D, Rule 501(a), promulgated by the Securities and Exchange Commission. The holder must have such knowledge and experience in financial and business matters as to be capable of evaluating the merits and risks of its investment and has the ability to bear the economic risks of its investment.
We believe it is vitally important that you read and fully understand the following risks of investing.
INVESTMENT RISKS:
All investments are speculative in nature and involve a substantial risk of loss. We encourage you to invest carefully. We also encourage you to get personal advice from your professional investment advisor and to make independent investigations before acting on the information that we publish. Much of our information is derived directly from information published by companies or submitted to governmental agencies on which we believe are reliable, but are without our independent verification. Therefore, we cannot assure you that the information is accurate or complete. We do not in any way guarantee the success of any action you take in reliance on our statements or recommendations.
Past performance is not necessarily indicative of future results. All investments carry risk and all investment decisions of an individual remain the responsibility of that individual. There is no guarantee that systems, indicators, or signals will result in profits or that they will not result in losses. All investors are advised to fully understand all risks associated with any kind of investing they choose to do.
Hypothetical or simulated performance is not indicative of future results. Unless specifically noted otherwise, all return examples provided in our websites and publications are based on hypothetical or simulated investing. We make no representations or warranties that any investor will, or is likely to, achieve profits similar to those shown because hypothetical or simulated performance is not necessarily indicative of future results.
Don't enter any investment without fully understanding the worst-case scenarios of that investment.
FORWARD-LOOKING STATEMENTS:
Various statements contained in this presentation, including those that express a belief, expectation, or intention, as well as those that are not statements of historical fact, are forward-looking statements. These forward-looking statements may include projections and estimates concerning the timing and success of strategies, plans, or intentions. We have based these forward-looking statements on our current expectations and assumptions about future events. These assumptions include, among others, our projections and expectations regarding: market trends in the business of delivering I.T. services, our business strengths, our ideal franchise owner profile, the location of our future franchise stores, our ability to create a cash flow opportunity with attractive current yields and upside from presenting price and cost efficiencies and our understanding of our competition and general economic, demographic and market conditions that may impact our business. While we consider these expectations and assumptions to be reasonable, they are inherently subject to significant business, economic, competitive, regulatory, and other risks, contingencies, and uncertainties, most of which are difficult to predict and many of which are beyond our control and could cause actual results to differ materially from any future results, performance or achievements expressed or implied by these forward-looking statements. Investors should not place undue reliance on these forward-looking statements. We undertake no obligation to update any forward-looking statements to conform to actual results or changes in our expectations unless required by applicable law.
FYI - Recent Investment Rules for Non-Accredited Investors
If they make:
less than $100,000 per year, they can invest in risky investments the greater of $2,000 or 5% of their annual income.
more than $100,000 per year, they can invest up to 10% of their annual income in risky investments.